EnGenius


EnGenius Technologies Inc, manufacturer of the SN-900, SN-920 Industrial Cordless Phones. More than 20 years experience in cordless solutions has led us into a stable growth to provide the industrial and the SOHO market with niche products that targeted for their wireless communication needs.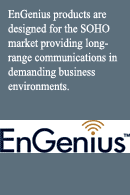 EnGenius Industrial Cordless Phone System has more power that most of the conventional phone in the market. Which enable you the Long Range Cordless Communication ensure you the Mobility and Clarity
of your telecommunication.
The new EP-436 Industrial Cordless Phone System

The EP-436 is the ideal package for anyone that requires mobility any telephone access. This expandable system can be part of an EnGenius EP-436 system of up to four phone lines and 36 handsets. An operational external antenna (SN-ULTRA-AK20) makes effective outdoor cordless phone operation a viable resource for industrial parks, construction sites, auto dealers or other demanding campus environments.

This system is also two-way radio compatible (additional handsets required for two-way communication).
Package Includes:
(1) Handset EP-436-HC
(1) Base Unit EP-436-BU
(2) Battery Pack EP-436-BA
(1) Long (2 db) Handset Antenna EP-436 HS-A1
(1) Short Handset Antenna EP-436 HS-A2
(1) Handset Charging Cradle EP-436-CH
(1) Carrying Case
New features:
Auto-attendant directs callers to specific handsets
Text messaging handset-to-handset, or handset-to-group
Three-way conference calling between two handsets and one line, or two lines and one handset
Headset ready for 2.5mm jacks
One year limited warranty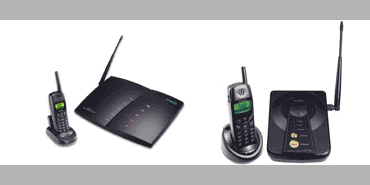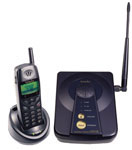 SN-920 Ultra System: Longest Range Cordless Phone & 2-Way Radio System. Engenius Industrial Cordless Phone Systems are ideal for:
Agriculture / Farming / Nurseries
Automobile Dealerships
Construction
Healthcare and Schools
Multi-Floor Offices
Hotel / Convention Center
Manufacturing
Property Management
Retail and Wholesale
Warehouse
Additional EnGenius Features:
Longest range
Two-way radio
Four telephone lines
Expandable
Rapid charger
Music on-hold port
Caller ID with call waiting
Call transfer
Call forwarding to another handset, extension, or outside line
Call hold /mute /flash
Speed dial directory
Vibration - ring mode
Works off analog CO lines or behind PBX off analog ports
Auto power management
Battery hot swapping permits changing battery while call is on hold
Digital spread spectrum (DSS) technology for privacy and clarity
Frequency hopping security
Optional indoor / outdoor external antenna for optimal coverage
Optional rugged case to protect handset