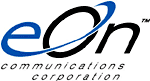 In today's extremely competitive business environment, organizations require a complete solution for managing all voice, fax, and email communications. These solutions must be scaleable, affordable, and easy to administer. All of these requirements must be met using reputable products from a single provider committed to the telecommunications marketplace. The fully integrated messaging solution that meets these needs today is the Millennium Voice Processing System (MVPS). No other voice processing system in the marketplace can match its unique combination of flexibility, scalability, system integration, and overall value. The MVPS is available in four models: the rack-mountable Series 5000, the Series 3000, the Series 1000, and the Series 500. All platforms offer extensive functionality and a highly efficient means of managing communications.

All models except the Series 500 are shipped with 5 seats of Unified Messaging and will support the following optional software modules:
Fax-on-Demand Module - available in four-port increments

Fax Messaging/Broadcast Module - available in four-port increments

VoiceClusters (Patents Pending) Digital Networking Module - requires network card

AMIS Analog Interface Module - for analog networking with other voice mail systems

Foreign Language Prompts - for multilingual applications

Unified Messaging - available in 25- or 50-seat increments
MVPS Features

Unified Messaging
The Unified Messaging Module enables users to access and manage all voice, fax, and email messages from a single interface: the Microsoft© Outlook email client. Our standards-based approach to messaging, using such protocols as Simple Mail Transport Protocol (SMTP) and Internet Messaging Access Protocol (IMAP), is an integral part of eOn's unified messaging strategy, providing maximum flexibility for integration with additional email servers and clients.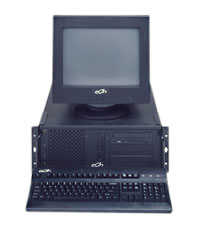 capabilities include the following:
ePlayer - the "command center" for managing voice and fax messages. The ePlayer works seamlessly to provide Calling Party Information (if available), message send/forward/reply capabilities, and extensive control over the user's mailbox features.

User Control of Mailbox - the user has extensive control over general mailbox settings (i.e., greetings, notifications, announcements), message options (i.e., LIFO/FIFO, date/time), and Auto Attendant call handling.

Visual Call Screening - the ability to visually control incoming calls, with options to accept the call, reject the call (route call to voice mail through the Auto Attendant), or transfer the call to another party.

Visual Control of Announcements/Distribution Lists - now users have visual control over their personal announcements and distribution lists (personal and/or system lists). The "wizard-based" approach guides users through the process of creating or modifying these items.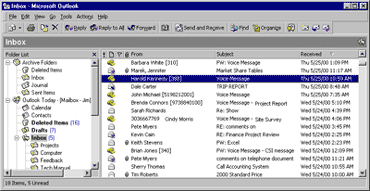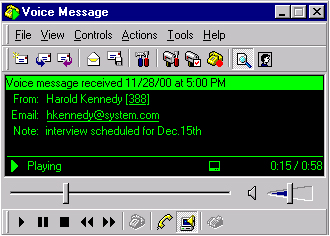 Networking Capabilities
The MVPS is fully network-aware, providing system connectivity to networks running under Microsoft© Windows networking, Novell NetWare©, IBM OS/2 Warp, and Artisoft LANtastic. The MVPS supports the TCP/IP networking protocol. The Series 5000 MVPS platform incorporates a Network Interface Card (NIC) necessary to interface with the LAN/WAN (the NIC is available as an option on the Series 3000 and Series 1000). Four methods of networking are supported. These extremely cost-effective approaches to networking greatly extend the overall capabilities of the MVPS family of voice processing solutions:
VoiceClusters (Patents Pending) - VoiceClusters technology links multiple MVPS servers together into a single, high-speed global messaging system using a WAN.

AMIS - The Audio Messaging Interchange Specification (AMIS) analog protocol allows integration of the MVPS with voice processing systems from other vendors.

Remote Message Delivery (RMD) - The RMD method is an analog-based, proprietary networking protocol included at no charge with every MVPS eOn delivers. The RMD protocol is employed between two or more network nodes.

Centralized voice mail - A single, centralized voice processing platform saves money, speeds information sharing between hub and remote locations, allows for multi-site distribution lists, and simplifies the task of adding new extensions.
Fax Capabilities
, a full range of fax capabilities is available to the end user without purchasing additional hardware. Two options are available:
provides fax messaging and fax broadcast capability in a single application.
is used to create fax document libraries.
Millennium Voice Processing System - Benefits
The MVPS is optimized to work with the Millennium. This powerful combination of switching and voice processing solutions delivers an extremely tight integration, providing benefits not available with other solutions. Here are just some examples of how an organization can benefit from the optimized MVPS integration:
Calling party name/number for internal and external callers (if available) gives users necessary information about the caller, including access messages, which can indicate that a caller reached the mailbox but did not leave a message.

One-button call return and message response for internal and external callers saves users time.

Intelligent up-front paging allows the calling number to be displayed on a pager.

Multiple message forwarding allows messages to be forwarded to multiple recipients/distribution lists.
of today's communication media into a single, robust platform - the Millennium Voice Processing System - provides a sensible, cost-effective approach to meeting your communications needs.