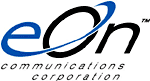 CORTELCO CORSAIR
Listen to your customers
Customers want good service. By offering them clear directions who to contact and always letting them leave a message, Corsair Voice Mail / Automated Attendant systems help you improve your service and promote your business.
Automated Attendant with multilingual
feature, directs callers with a range of prerecorded
instructions, in your choice of up
to three languages. Record multi-level,
personalized scripts and informational
messages so callers are prepared before
they speak to your representative.

Voice Mail with up to 500 mailboxes, each
with a customized greeting, so your
customers can always leave a message
with the right person.

Unified Messaging for the more
sophisticated office sends your messages
to your PC via E-mail. Allows you to set up
additional alerts to external phone
numbers.


Read More About Corsair



Features of the Millennium CTI Server include
Corsair Voice Mail Systems with Automated Attendant
Never miss a customer call with the Cortelco Corsair Voice
Mail and Automated Attendant solutions. Effectively direct
your incoming call traffic to the best possible people in your
organization, even if they are off-site. Let callers choose to
hear system messages in their choice of language (English,
French or Spanish) and follow up on missed calls both inside
and outside the office.

The Corsair Voice Mail system is designed with the latest technology to include Flash Memory and Digital Signal
Processing (DSP). The system software has been tightly
integrated with the Millennium Digital Business
Communications System to allow for SMDI signaling. This
integration greatly improves the easy accessibility and
utilization of the advanced call routing capabilities available
with the Millennium PBX.

Cortelco's Corsair, the latest version of our superior
Unified Messaging and Voice Mail Solution, designed for
medium to large sized businesses with between 20-300
employees: 500 Mailboxes, 4 or 8 ports.
The Superior Voice Mail Solution
The Corsair is an advanced, solid state flash memory
Voice Mail solution, meeting the needs of medium to
large sized businesses with up to 300 employees.
Offered with a built-in modem and LCD displaying port
status, add Unified Messaging, SMS notification and
expand it to 8 ports to create the most versatile and
cost-effective system on the market today:
Up to 500 mailboxes

4-ports version (36 hours flash memory capacity)

8-ports version (72 hours flash memory capacity)

Local/Remote administration

Message Notification from all ports

Unified messaging via an optional modules

Software Download, Flash-Based EPROM

LCD displays System and Port Status

Local/Remote administration

19 inch rack-mountable case

Personal Mailbox Management via LAN