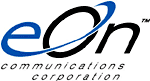 Multi-Site Networking
From campus environments to distributed call centers, the Millennium provides networking capabilities and unmatched data connectivity in industries where a communication hub is required to provide a central point of entry into a system or network. By optimizing the inherent flexibility of the system's features, the Millennium offers cost-effective, results-oriented solutions for a variety of unique networking applications, including remote office data communications enabled through both PRI and BRI Circuit Switched Data.

The Millennium's integration of voice and data networks makes it extremely economical to deploy worldwide corporate communications for support of videoconferencing systems, terminal adapters, routers, and modems to access the LAN and the Internet. With Circuit Switched Data, PRI channels between multi-site locations can be used for both voice and data. Bandwidth can be increased or decreased on-demand and remote locations are economically brought onto the corporate network via ISDN instead of using costly dedicated lines.

networking solutions include...

- The Millennium's networking capabilities help your business to consolidate resources.
- Your customers do not have to call a separate number to reach the remote sites, and all calls are routed consistently.




The Millennium supports direct fiber connection of remote shelves, using multi-mode fiber. This application supports up to three remote shelves in a star configuration up to 2 km (1.24 miles) from the main system. Rather than having two complete systems tied together, as in networking, remote shelves run directly off the main shelf and act as single switch. This allows the Millennium system to be located closer to the telephone users its serves and increases the serving area of a single system. Supporting remote locations in this manner is a cost-effective solution for many multi-site situations.
of the Millennium's Remote Fiber solutions include...
- The ability to connect remote fiber shelves to a Millennium hub eliminates the need to purchase a separate switch for each location.
- Your customers do not have to call a separate number to reach employees at remote sites.