The human voice is the fundamental instrument for effective business communications. Since 1989, VXI has delivered innovative products, designed by top engineers, to expand the capabilities of people who need to use the human voice to communicate more effectively.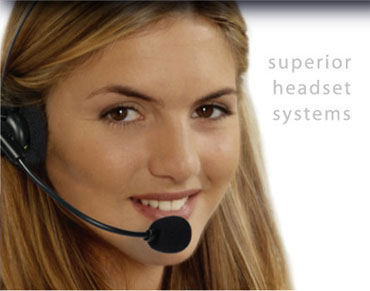 VXI has lead in the speech recognition market by providing Parrott computer headsets, recognized worldwide for outstanding clarity and accuracy with speech recognition applications including Dragon Systems and IBM ViaVoice.

VXI's TuffSet headsets and amplifiers are used by many of the largest professional contact centers including Home Shopping Network, Sitel, Metris, LL Bean, Victoria's Secret, and Teleperformance.

VXI's Voice It personal note recorders, the first hand-held digital recorders in the industry, have an enthusiastic and loyal following due to their compact and simple but highly functional design.

VXI manufacturers custom engineered products for a wide variety of applications including wearable computers, Internet Telephony, voice recognition, distance education, video conferencing, hearing testing, assistive technologies and retailing.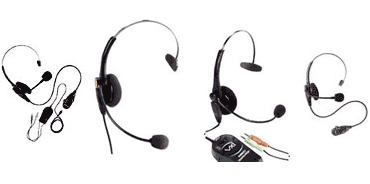 Technological Innovation at VXI comes in small bits and bytes. VXI continues to provide new and productive methods for integrating voice with emerging technologies. We translate a comprehensive understanding of the needs of the people who use our products into technical solutions at the personal level.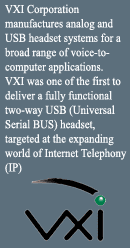 VXI is dedicated to excellence. An ISO 9001 certified manufacturer, VXI meets the highest global standards for product and service quality. The care with which we manufacture and support our products is matched only by the innovation that goes into their development. VXI products have won numerous awards for product design and acceptance.

If you have a need for audio communication devices, let VXI connect you to the digital world.