Direct Calls Quickly and Effectively with TRIAD ACD Software
When your customers call, they need answers and expect to be directed to an agent who canhelp them right away. Since every call is a revenue-generating opportunity, proper call management is vital. Your TRIAD Telephone System, combined with the TRIAD ACD system software, can help you provide outstanding service. The TRIAD ACD system software not only lets you route calls by product line, services or skill set, it also allows managers to customize call routing, select agents and delineate critical call activity as situations arise. With TRIAD, your call routing options are endless. Another revenue- generating feature of the ACD software for TRIAD Systems is the Delayed Sequencing feature, which informs callers of upcoming sales and promotions via synchronized, pre-recorded messages while on hold. With this level of call distribution and management power, you will need a tool to gather and evaluate statistical data to help manage your call center. For this, we offer Discovery ACDPlus.



In today's competitive business environment, you need to be one step ahead of your customers and your competition. With Discovery ACDPlus, your telecommunications system can give your business the competitive edge it needs. Whether your call center employs a team of 2 or 252, operating your call center at optimum efficiency is essential. The only way to achieve the highest level of service is with an MIS reporting package capable of helping you increase sales, service and productivity, as well as reduce operating expenses, number of abandoned calls and the time callers spend in queue. What you need is Discovery ACDPlus.

Manage Your Call Center with Real-Time StatisticsDiscovery ACDPlus is Windows-based software designed to seamlessly integrate with any TRIAD Digital Telephone System. This management tool consolidates all call center activities, ensuring supervisors have up-to-the-minute information needed for effective decision making. An extensive set of user-configurable windows display real-time information. Discovery ACDPlus also simplifies visuals with color coding. At a glance, management can view agent status, call queue, longest wait time, calls answered and calls abandoned. Performance summaries are also available for lines, agents and groups. This data generates reports that identify trends, which can help supervisors effectively manage call center activity to enhance productivity and improve customer service. The extensive flexibility of Discovery ACDPlus allows supervisors to customize their real-time screen to display information as needed. In addition, audible and visual alarm thresholds can be configured to alert managers of specific situations that need immediate attention.

Measure Performance with Comprehensive ReportingDiscovery ACDPlus offers dozens of report templates that measure inbound and outbound call activity. These reports are designed to provide sufficient information to measure and improve performance. For example, call volume, handling time, service levels and staff requirements can be analyzed. In addition, Discovery ACDPlus can examine workload trends and compare staff availability to actual needs. Plus, unlimited historical data can be used to forecast future trends. Reports may be customized to display the specific information you need by simply selecting the parameters and desired timeframe. Discovery ACDPlus is flexible in that it also supports account-coding systems, allowing agents to enter the account codes describing the nature of the call in progress. Account codes may be up to 4 digits, and as many as 20 account codes may be entered per call. Reports can even be scheduled to run automatically, which will save time and effort. Discovery ACDPlus allows you to tap into a wealth of information about your call center to help you analyze your center's efficiency and make sound management decisions.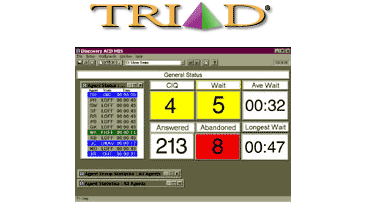 Motivate Your Staff with Wallboards
Discovery ACDPlus supports both LAN and traditional wallboards, which allow supervisors to accurately monitor agent performance and display real-time performance statistics on each agent's monitor. A single supervisor may drive up to 6 traditional wallboards simultaneously – each wallboard displays different real-time data to call center agents. Several wallboard templates are available to assist with defining the data you wish to display, as well as the position and text of any labels. A template can also define the contents of a scrolling message. You may create as many templates as necessary, and wallboards can be configured and scheduled to coincide with various shifts. Another wallboard option is to incorporate audible and visual alarms that alert supervisors when specified parameters exceed acceptable limits, such as excessive call loads, long hold times and a large number of calls in queue. Unlike traditional wallboards, inView (LAN) wallboard support is unlimited. The inView wallboard feature is a network application also used to display performance information and agent/extension status on a network PC. One supervisor can drive as many inView wallboards as needed, and each wallboard can be configured to display two information views: wallboard view and status view. On a wallboard-view configuration, the user can view up to eight key performance parameters. The status-view option allows the user to view the status of agents/extensions within a selected group. This view can be used to allow agents and managers to see when they can transfer calls.

User-Friendly Configuration
With Discovery ACDPlus, call center management has never been easier. The Discovery ACDPlus "Configurator" requires no special programming skills. This configuration database defines what lines, extensions, agents and corresponding groups are to be monitored by the system. A Windows-based interface makes all Discovery ACDPlus screens easy to configure and use. To assist with troubleshooting, Discovery ACDPlus provides 24-hour access to a comprehensive, on-line help system, which offers immediate assistance with the specific screen you are having difficulty with. Another convenient feature is the Discovery ACDPlus password protection, which prevents unauthorized changes to your system. Reduce Call Center Costs Since 75 percent of call center expenses are linked to staffing, it's important to employ the correct number of agents to achieve the defined service and satisfaction levels. The data and reports generated by Discovery ACDPlus will help you identify the busiest and quietest periods during the day, week, month and year, so you may staff appropriately to meet call demands. Making minor staffing adjustments can not only lower costs, but will most likely improve agent productivity, often resulting in increased sales.

Create the Ultimate Call CenterVodavi delivers powerful solutions for integrating communications applications. The integration of Discovery ACDPlus with the TRIAD System provides a wealth of valuable information – a result of the broad feature set and powerful, high-level, reporting package. Add to this the convenience of integrating desktop computer telephony with DiscoveryDesktop; the possibilities are endless. Voice messaging is also key. Vodavi offers Digital Dispatch, a digitally integrated, self-contained, voice-processing system that delivers large capabilities in a compact, economical package. Or add PathFinder, a Windows NT-based voice-processing solution for voicemail, auto attendant, unified messaging, Internet faxing, Internet networking and IVR applications. All Vodavi systems are designed to prevent missing a single revenue-generating opportunity.