Express VoIP Solution
Express VoIP installs in minutes making it the perfect IP telephony solution for your existing systems. Express VoIP extends the reach of the main office using your existing Intranet. Remote offices and telecommuters can avoid long-distance charges while enjoying high quality voice over your Intranet rather than the PSTN. This non-proprietary adjunct gateway connects to an available analog CO port on an existing telephony system to provide Voice-over-IP connectivity to other VoIP enabled devices.An analog phone can also be used connected directly to the Express VoIP gateway giving a remote site or home office simple VoIP connectivity right to the main office. This allows telecommuters to avoid the hassle of adding up all business related long distance charges by accessing the main office's system to place outbound long distance calls instead.


Installation and administration of Express VoIP is very simple. Connect the Express VoIP to your system's analog CO ports via the Express VoIP SLT ports, and connect the Express VoIP to your network via the Ethernet port.All administration is easily performed through a web browser.This eliminates complicated programming or the constant running back and forth between the desk and the phone room.

Vodavi Integrations
Express VoIP integrates with all Vodavi phone systems.


Provides VoIP connectivity for most KSU/PBX systems
Eliminates long-distance charges between remote offices
Expands existing telephony system functionality
Dial internal extensions between remote sites
Maximizes existing data connection value
Web-based administration makes set-up simple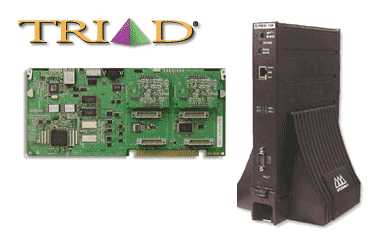 can significantly reduce your clients' phone bills by decreasing the the cost of making long-distance calls between remote offices. The Discovery VoIP Card seamlessly bridges voice communications over an IP network, such as an internal Local Area Network, the Internet or a Wide Area Network. This extends your clients' office telephone systems to include remote offices that are connected to their IP network.

The Discovery VoIP Card maximizes communication capabilities by utilizing all telephony features, like call transfer, callconferencing, voice mail and interactive voice response (IVR). Plus, it uses the latest in voice-processing protocols and hardware technologies, which provide high-quality voice clarity. Advanced, VoIP technology will also help your clients get more value from their existing data connection by allowing them to reduce the number of CO or T1 lines currently installed by using the Internet to provide long-distance lines between offices.

To reach coworkers, users simply dial an internal extension to call both local and remote offices, including telecommuters. The simplicity and tremendous cost savings results in increased and improved internal communications. By eliminating phone bill submissions between remote offices and headquarters, your clients' accounting departments will have a greatly reduced expense report load, freeing them to concentrate on more pressing issues.