Aculab's market leading Prosody media processing resource card in PCI bus format offers a comprehensive selection of algorithms that can run independently on its DSPs as well as the option of adding a primary rate trunk module (PM). Solution providers can specify a PM with one, two or four E1/T1 – software selectable – trunks. Key media processing resources include record and playback with a range of compressions, DTMF tone detection, matrix conferencing , echo cancellation , fax, isolated word speech recognition and data transmission protocols.

Each media processing resource function can be used separately or in combination to develop more sophisticated solutions, making Prosody the clear choice for advanced speech processing development. In addition, Aculab's host based speech technologies ASR, TTS and SVI, using Aculab's generic API, are also available under a cost free licence from software downloads for use with Prosody cards.

Specialist speech partner software is supported and Aculab's offering includes an Audio Provider for Nuance core speech engine and the Nuance Voice Platform. Prosody is also integrated with the VBVoice Rapid Application Development environment from Pronexus and the Envox 6 Communications Development Platform. In addition, Prosody PCI has been tested for use with the Asterisk PBX software – for the channel drivers click through to software downloads.

Highest density, widest feature set
Using the ECTF H.100 CT card interconnection specification the Prosody PCI card presents integrators with the highest density and widest range of speech processing functions available. A single Prosody card occupying a single slot can deliver up to 256 channels of media processing resources and up to 124 E1/T1 bearer channels. The optional digital network access support enjoys the full benefit of Aculab's protocols and approvals making solutions easy to work into international markets.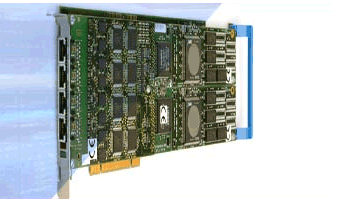 Focus on the right thing
With Aculab's generic, cross platform API, the learning curve for developers looking to integrate Prosody PCI technology is greatly reduced. Rather than dealing with new APIs, attention can be directed on how to best use the widest range of speech processing functions currently available (see table for details). Because Prosody can perform all of these functions on a single card, stock holding is greatly reduced.

A new benchmark in developer control
Continuing to set industry firsts in speech processing, Aculab offers a highly flexible DSP architecture, TiNG to provide developers with the ability to select the functions they require for an application. The principle of one DSP (or even one card) performing only a single function is removed, allowing feature mixes to be controlled by the developer.

Recognising that a diverse number of applications can be created using Prosody, a utility tool is available that allows developers to profile the features required in their total application. Selection of the resource combination is under the developer's control, providing an optimised, concentrated and 'fine tuned' solution. Such a flexible approach minimises costs and maximises competitive edge.

When features are mixed in the same DSP, there is an overhead for each algorithm to run, so the relationships between features and channel counts are not linear, and some combinations will produce better channel counts than others. The utility tool is used to calculate optimum feature mix combinations.